USA Release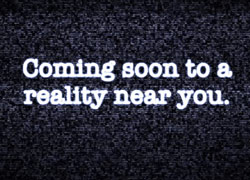 Radio Free Albemuth is pleased to announce its USA Theatrical Release, set for June 27
Radio Free Albemuth has been in 'radio silence' mode while we were in the midst of negotiating relatively complex distribution strategies for the film – and completing the unexpectedly difficult and technically complex "delivery" of the film.
But "delivery" is complete -  And we finally have definitive news to announce…
JUNE 27th -
In 1905 – Russian sailors mutinied onboard the Battleship Potemkin (the basis for Segei Eisenstein's landmark film
in 1929 – the first color television was demonstrated
in 1942 – FBI captured 8 Nazi saboteurs from a sub off Long Island, New York.
1967 – The world's first ATM is installed in London.
1969 – Police raid Stonewall Bar in Greenwich Village, NY, hundreds of gay patrons protest against police for 3 days
1990 – Salman Rushdie, condemned to death by Iran for his novel The Satanic Verses.
Birthday of anarchist Emma Goldman, blind-deaf author Helen Keller, and the great Polish director Krzysztof Kieslowski, and…
In 2014 –   the day that Radio Free Albemuth will open in theaters in at least ten cities across the United States.  Also the same day that Radio Free Albemuth will be available across a wide array of Video on Demand Platforms in the U.S.  To be followed by the DVD release and an exclusive subscription streaming window to be announced shortly.
This is a day that both RFA filmmakers and Philip K. Dick fans have been waiting for patiently – (and sometimes not so patiently!)
The first and most important of several deals with partner companies has been signed – and the ink is not even yet dry on the page.  Our theatrical booking for the initial ten city release and digital sales partner will be a Los Angeles based company called Freestyle which has overseen the release and digital sales of other indie films such as Bottle Shock, Me & Orson Welles and The Illusionist.
More details will follow shortly about other distribution partners – and hopefully news on the international front.
Many thanks to all our Distribution Kickstarter Backers, Slacker Backers and Philip K. Dick fans and people who saw Radio Free Albemuth at film festivals for your support, sharing  and enthusiasm.  We can't do this without you!
We'll be asking for your help in the weeks that follow to make this an unprecedented grass-roots success in bringing the vision of Philip K. Dick to the widest audience possible. You can start now by sharing this announcement on social media, signing up  on our mailing list and liking Radio Free Albemuth Facebook page.